Situated on the tip of Long Island, the Hamptons are renowned for their gorgeous estates and vacation getaways. Filled with an array of pristine beaches, world-class shopping, and ultra-luxurious resorts, this legendary string of villages makes for an amazing place to kick back and relax. Whether you are considering a visit or a move to the Hamptons, there are plenty of exciting things to do here. For example, there are beautiful golf courses, classic horse shows, and a diverse variety of five-star restaurants. A highly popular place to vacation and get away from the hustle of everyday life, the Hamptons provide the ultimate experience in luxury.
An exceptional characteristic of these famed and shining towns is that they really do have something special for everyone. From the spectacular art scene to the plethora of recreational activities, there are plenty of reasons to fall in love with the Hamptons. It is filled with historic charm, rural backdrop, and picturesque nature scenes. With an excellent selection of breakfast nooks, endearing boutiques, and cozy coffee shops, the Hamptons have all the perfect ingredients to be your future dream home. Additionally, it is a well-known spot for celebrities who wish to have a break from big city living and relax during the summer months. Without further ado, here is a glimpse into some of the magnificent listings that celebrities have purchased.
Why celebrities enjoy life in the Hamptons
The serene beaches and lavish estates are just some of the reasons why celebrities flock to the Hamptons. Perhaps one of the most appealing reasons is the ability to withdraw from the busyness of life and go unnoticed. These luxurious towns make the perfect spot for celebrities who want to purchase or rent a home where they can live in relative peace and anonymity. An ideal place to fly under the radar, the Hamptons offer a tranquil pace of life as well as an incredible array of luxurious amenities.
From the breathtaking scenery to the towering lighthouse, there are lots of reasons for celebrities to come here, whether to buy a house and stay a while or rent for a relaxing stay at this natural oasis. Furthermore, the Hamptons are also a hotspot for celebrities to invest in real estate as well. Perhaps wishing to buy a new home, add to their real estate portfolio or relocate entirely, there are always people who are eagerly looking for real estate in the Hamptons. Because of its incredible popularity for resorts and vacations, houses for sale or rent are in high demand.
Undoubtedly, some major attractions of the Hamptons include its stunning homes, riveting natural beauty, and quiet atmosphere. However, what else captures celebrities' attention and brings them to this seaside sanctuary? What are some of the noteworthy attractions the Hamptons are known for?
Rated as one of the top ten beaches in America
, Cooper's Beach is an ideal spot to unwind after a long day. At this highly sought-after destination, visitors can enjoy the sandy shores and immerse themselves in the scenes of nature. Here you can picnic, surf, or snap pictures of the sparkling waters.
Another draw of the Hampton's is its delectable dining and diverse restaurant options.
The 1770 House
has a warm and inviting tradition of welcoming guests from around the world. Today this gorgeous house is a restaurant, bar, and inn. Here you will discover homestyle American cooking and an array of delicious dishes. On the menu, there is scrumptious fare such as the North African Spiced Quail or the Marinated Veal Rib Chop. This upscale dining establishment offers a friendly atmosphere for guests and a top-tier array of fare.
Nick & Toni's
is open for indoor and outdoor dining. Established in 1988, this pristine restaurant is an amazing place to enjoy a luxurious and laid-back dinner. From the delicious pasta dishes to a sparkling selection of drinks, there are plenty of reasons to love this wonderful restaurant. Or do you have a special occasion or event coming up on the calendar? You can reserve one of the rooms for a celebration with your family and friends. Without further ado, here is a glimpse into some of the magnificent listings that celebrities have purchased.
Christie Brinkley's home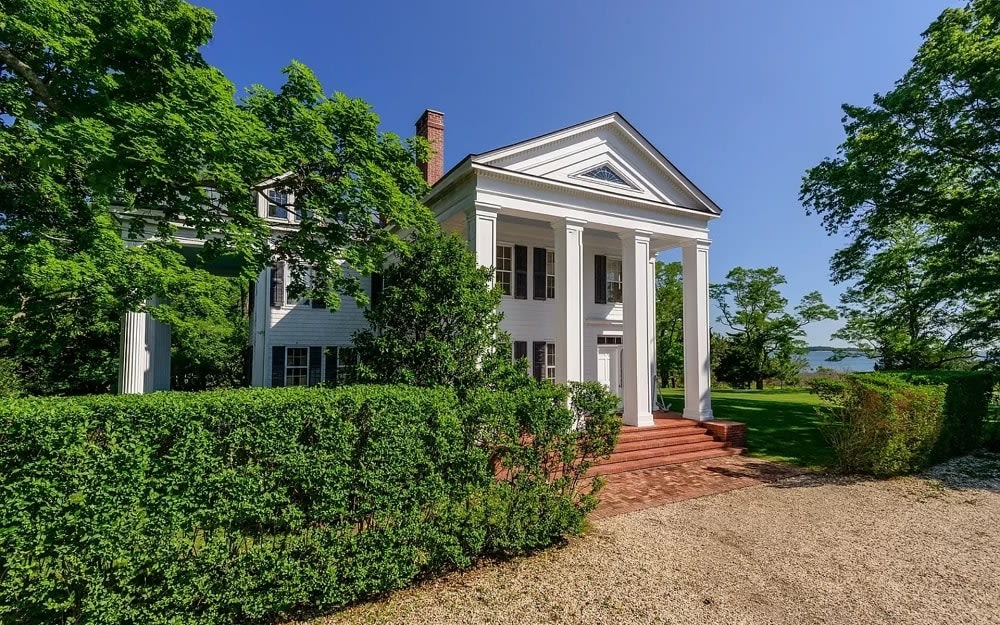 Photo courtesy of Susan Breitenbach Real Estate
The American model and actress, Christie Brinkley,
sold her fabulously beautiful colonial-style mansion in Sag Harbor
. Located in the Hamptons, the house went for a robust 15 million dollars.Corcoran's Susan Breitenbach brought the buyer. Originally constructed in 1843, this gleaming white mansion consists of 5,500 square feet. It has five bedrooms, a large marble kitchen, study, mudroom, and several dining areas. With intricate details and ornamental 19th-century signatures, this house certainly makes an impression. From its sweeping views of the glistening ocean to its beautiful fireplaces, it is filled with unique charm and brimming with history. The wide-plank floors are pine and the banister is made from oak. If you walk outside, you will be greeted by an inground swimming pool. This exciting real estate transaction once again goes to show the popularity and elegance of Hampton houses.
Sag Harbor itself, the location of Brinkley's mansion, is situated three-fifths in Southampton and two-fifths in East Hampton. The town is widely remembered for its history in the whaling industry and offers a diverse selection of charming shops and scrumptious eateries. Founded in the 1700s, Sag Harbor became an international port and retains its character and warm spirit to this day.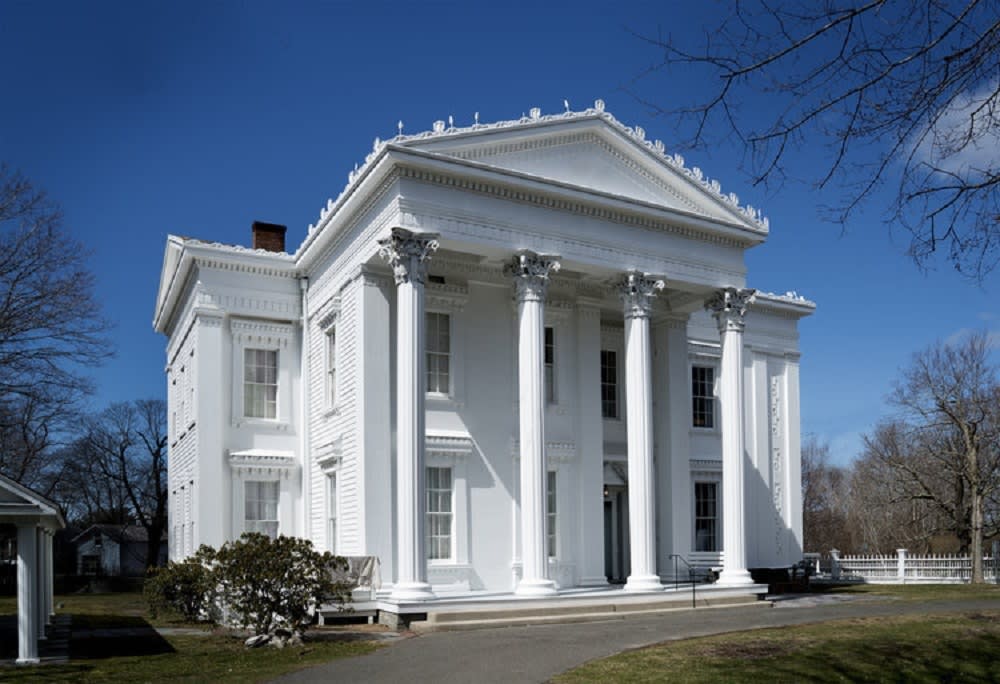 Photo courtesy of Sag Harbor Whaling and Historical Museum
Some notable features include the popular
Sag Harbor Whaling and Historical Museum
which tells the story of the town's fascinating past. For art lovers,
Grenning Gallery
is the perfect place to marvel at riveting landscapes, life-like sculptures, and vibrant paintings. Last but certainly not least, is
Foster Memorial Beach
, known as Long Beach, is the go to place for a refreshing swim, take a stroll, bask in the sunset, or enjoy a picnic with your family, this beach encapsulates the very best in natural beauty and ultimate relaxation. A popular spot for visitors, the quaint village of Sag Harbor is filled with, restaurants, the renowned Bay Street Theater, the newly refurbished Sag Harbor Cinema and of course, stunningly gorgeous homes.
Donald Trump Jr.'s home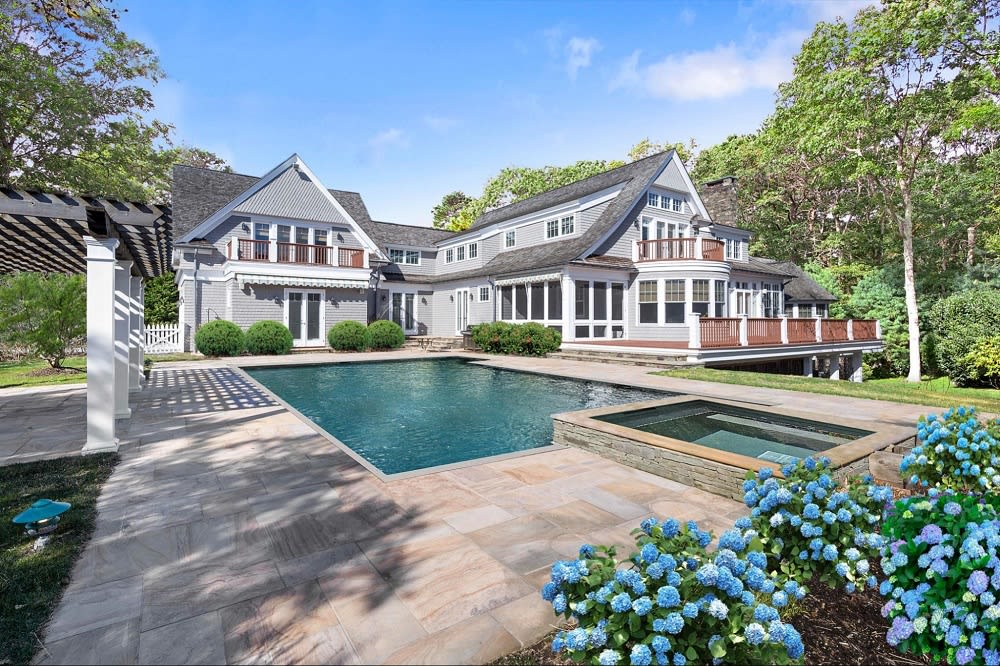 Photo courtesy of CNBC
In March, Donald Trump Jr. and Kimberely Guilfoyle sold their luxurious home for $8.1 million. Back in 2019, real estate agent Susan Breitenbach
brokered the sale
to the couple for $4.4 million. Currently, Alex Rodriguez rents this exquisite home during the summer months. Made up of 9,200 square feet, it has seven bedrooms and eleven bathrooms. It is situated on four acres of land with a pool and easy access to an idyllic 25-acre pond. Additionally, this lavish home includes a spa and a waterfall. With its bay windows and gleaming white kitchen, this Sag Harbor house is certainly a dazzling sight to behold.
Next steps
Are you considering a move to the glorious Hamptons? If so, there is no better time than now to begin the process of looking for your future home. While this can seem like a daunting task, it does not have to be – enlisting an excellent and knowledgeable real estate agent can make your house-hunting a smooth and seamless process. From finding house listings for you to navigating current real estate trends, an agent will be able to make the search and transition into your new home a fantastic one.
So, are you ready to start looking for an exceptional real estate agent? Meet
Susan Breitenbach
! The epitome of Hamptons luxury real estate, Susan is incredibly respected by her clients. She is known for being a broker extraordinaire and for her amazing reputation of integrity. From her vibrant work ethic to her wealth of knowledge regarding current real estate trends, Susan is more than equipped to help you in your search for the home of your dreams. Through her connections both in the US and overseas, Susan is an agent who is perfectly suited to come alongside you in this exciting and unique journey. She is ready to walk through the house-hunting process with you and brings her years of experience in selling beautiful Hamptons houses.
With a thrilling selection of gorgeous and luxurious homes waiting, there is no time like the present to begin your house-searching process! If you are ready to find your dream home in the setting of the idyllic and serene Hamptons, look no further. Susan Breitenbach is ready to help you discover your dream home. Contact her today and take this next step in your journey!